US National Physics Endorsement Online Program
Are you an already certified New Jersey teacher looking to earn an additional endorsement?
Physics Endorsement Program
This program provides currently certified, in any subject area, an endorsement to teach physics through a combination of NJCTL Online Courses for Teachers; Online Field Experience Courses; and State Teacher Certification (i.e. Praxis) examinations. NJCTL Online Courses for Teachers provide all the required instruction in both physics content and teaching methods.

For more details see: learning about the PSI and PMI curriculum.

While NJCTL Online Courses for Teachers are asynchronous, so they can be taken anytime, anywhere, we recommend starting on suggested dates to be part of a cohort. Also, "virtual office hours" will be in place for each course using Zoom; by being part of a cohort, those Zoom sessions will be more productive. All content courses will be offered completely online through asynchronous courses. Teachers receive classroom coaching as part of the Online Field Experience Courses.
Mix and match physics courses to meet the teacher endorsement requirements for your state. Contact your state department of education to verify that these courses will properly support your pursuit of an additional endorsement in physics in your state.



Available Physics Courses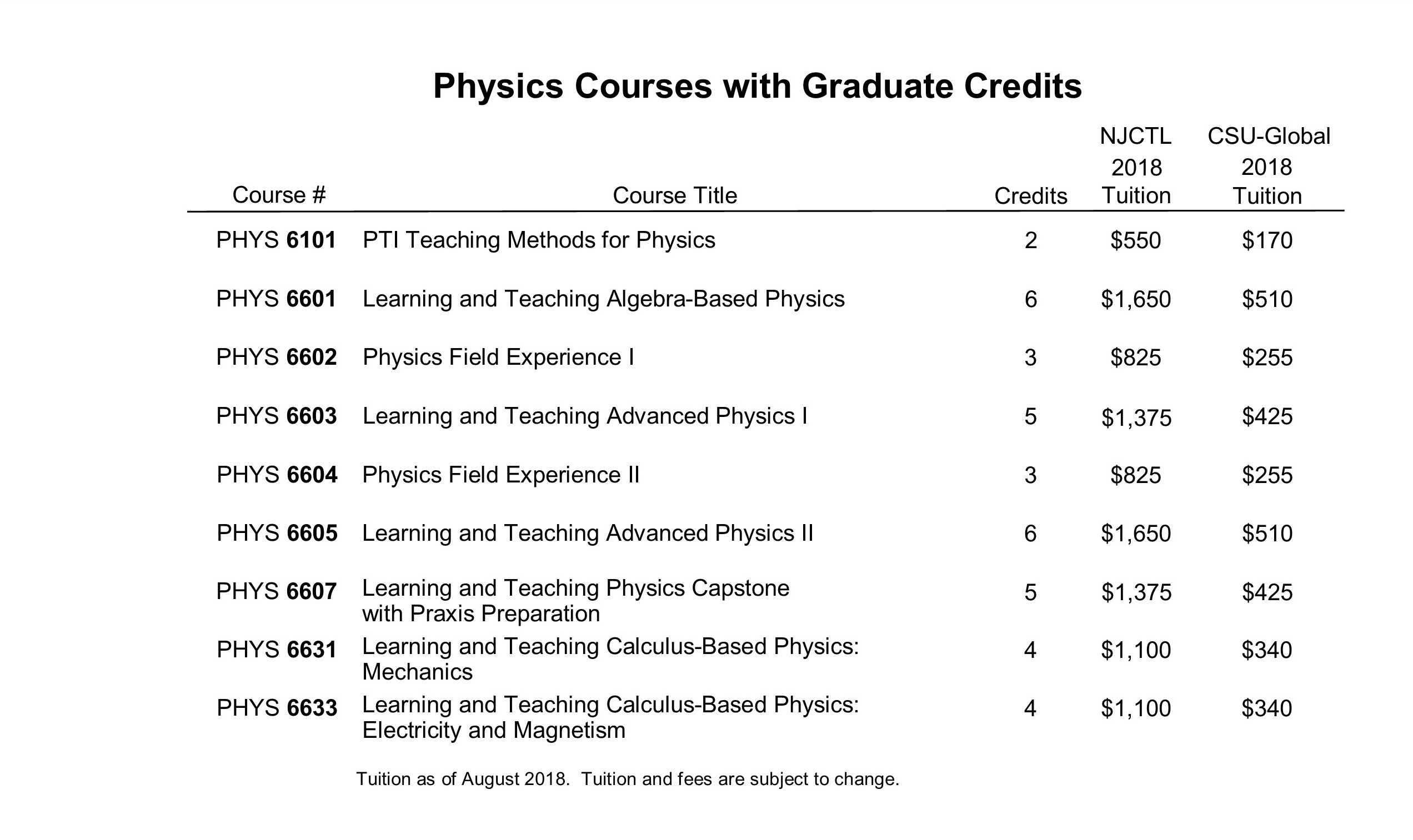 These graduate level classes may be taken with NJCTL for professional development credit hours only or through our partnership with Colorado State University - Global Campus, participants can have these courses placed on a CSU-Global graduate transcript (restrictions and fees apply).
Click here to learn more about having NJCTl credits transcribed onto a CSU-Global Graduate Transcript.
Additionally, individuals who complete the NJCTL Physics Teacher Endorsement Program are eligible to go on to complete a Master of Science in Teaching and Learning with Subject Matter Specialization in Physics degree with CSU-Global.
Click here to learn more about the NJCTL/CSU-Global MSTL with Physics Specialization with Physics Teacher Endorsement program.
Click here to view the program of study with costs for the NJCTL/CSU-Global MSTL with Physics Specialization.
Tuition
Click here for current NJCTL tuition rates.

Financing is available through Greater Alliance Federal Credit Union (GAFCU), click here to learn more.

All individuals who pay for the entire program up front (through GAFCU financing or other means) are entitled to a 5% discount for paying in advance.
How To Enroll and Next Steps